14 de outubro de 2010 —
O Líbano quer paz e quer suas terras de volta. É errado pedir de volta terras roubadas contra a lei da ONU?
www.nazen.tk
O  Líbano é um país soberano, livre para receber o chefe de Estado que bem entender
Lebanon is a sovereign country that can be visited by any chief-of-state it wants
Oct  14th 2010 – | Nazen Carneiro
Israel considera a visita de Ahmadinejad ao Líbano como uma provocação.
É errado requerer a completa liberação dos territórios ocupados por Israel no Líbano, Síria e Palestina durante guerras que opões leis e acordos das Nações Unidas em 1948? Por acaso é considerado provocação o líder de Israel, 
Netanyahu
, visitar os Estados Unidos? Por acaso o discurso de  
Netanyahu
não é também carregado de acusações e "solicitações" em relação ao Irã?
O Líbano vem sendo desestabilizado e desestruturado ao longo dos anos através de ocupações, guerras, indústria cultural e da ação direta de outros países na política regional. País chave na política do Oriente-Médio, o Líbano é disputado pelas forças ocidentais no intuito de enfraquecer a resistência local aos objetivos de suas empresas multinacionais e do vizinho Israel.Ahmadinejad no Líbano signigica o mesmo que Obama em Tel Aviv, ou não?
Abaixo você encontra 3 artigos de diferentes jornais: The Guardian, BBC Brasil e Al Jazeera, para ler e tirar suas próprias opiniões.
.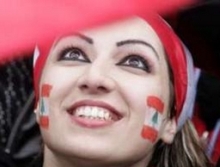 **english version
Israel takes Ahmadinejads visit to Lebanon as provoking and "playing-with-fire".
Is it wrong to ask back territories taken by the use of force and one-side-politics? Is it wrong to  support Countries that ask this simple 1948 UN Law?
By the way, is it considered provoking if Israel's leader 
Netanyahu
visits the United States?
Isn't  Mr.  
Netanyahu
attitude
also
full of accusations and question to Iran's activities?
Lebanon has been destabilized along several years through occupations, wars, cultural industry and direct actions of foreign countries interested on local politics. The fact is that Lebanon is a key-country on Middle-East politics and it is disputed by western powers in order to weaken islam resistance in the region and prepare a "better place" for their business and Israels interests.
Isn't the visit of Ahmadinejad to Lebanon just the same as a visit of Obama to Tel Aviv?
Right down you will find 3 texts from THe Guardian, BBC BRasil and Al Jazeera, to read and take your own opinion about it
enjoy
____________________________________________________

Wednesday 13 October 2010 08.47  |  
Article history
Mahmoud Ahmadinejad welcomed as hero in Lebanon
Pro-western groups make muted protest as Iranian president is greeted by supporters of Hezbollah militants his country funds
Mahmoud Ahmadinejad
, the Iranian president, has been welcomed by thousands of supporters in 
Lebanon
on a visit that underlines the deep divisions between the country's Shia "militants" and its pro-western "factions".
Ahmadinejad's first state visit to Lebanon comes amid tensions between Iranian-backed Hezbollah and American-backed parties. There are fears for the fragile unity government, which includes both sides and has managed to keep a tenuous calm.
Hezbollah's opponents in Lebanon often brand it a tool of Iran. They fear the movement is seeking to take over the country – it has widespread support among Shias and possesses the country's strongest armed force. In turn, Hezbollah and its allies say their political rivals are steering Lebanon too close to America.
Hillary Clinton, the US secretary of state, has raised concerns about the visit with the Lebanese president, Michel Suleiman. "We expressed our concern about it given that Iran, through its association with groups like Hezbollah, is actively undermining Lebanon's sovereignty," US state department spokesman PJ Crowley said.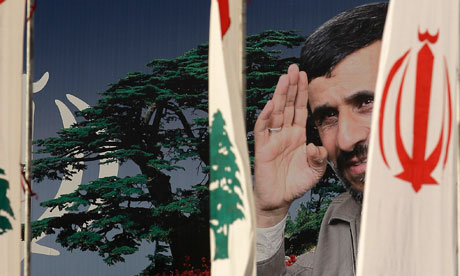 The visit throws Lebanon's divisions into sharp relief. Thousands of Lebanese lined the main highway into the capital from Beirut's airport where Ahmadinejad landed. Many waved Lebanese and Iranian flags and giant posters of Ahmadinejad towered over the road, while loudspeakers blasted anthems and women in the crowd sold Hezbollah flags and balloons to onlookers.
The crowd broke into cheers and threw sweets as the motorcade slowly passed. Ahmadinejad stood and waved from the sunroof of his SUV.
"Ahmadinejad has done a lot for Lebanon, this is just a thanks," said Fatima Mazeh, an 18-year-old engineering student who took the day off classes to join the crowds. "He's not controlling Lebanon, he is helping. Everyone has a mind and can think for himself. We are here to stand with him during the hardest times."
Hezbollah's rivals expressed concern over the message sent by the Iranian leader's visit.
A group of 250 politicians, lawyers and activists sent an open letter to Ahmadinejad on Tuesday criticising Tehran's backing of Hezbollah and expressing worry Iran was looking to drag Lebanon into a war with Israel. Iran gives the group millions of dollars a year and is believed to provide much of its arsenal.
"One group in Lebanon draws power from you … and has wielded it over another group and the state," the letter said, addressing Ahmadinejad.
"Your talk of 'changing the face of the region starting with Lebanon' and 'wiping Israel off the map through the force of the Islamic Resistance in Lebanon' … makes it seem like your visit is that of a high commander to his front line."
But even in the mouthpiece newspapers of parties opposed to Hezbollah criticism of Ahmadinejad was muted as the government sought to treat the visit like that of any other head of state. The government is headed by the leader of the pro-western factions, Saad Hariri, as prime minister, but his cabinet includes members both from Hezbollah and fiercely anti-Hezbollah parties.
The visit comes as many Lebanese worry over an impending possible blow to the unity government. A UN tribunal investigating the 2005 assassination of the former prime minister Rafik Hariri – Saad's father – is expected to indict members of Hezbollah as soon as this month, raising concerns of possible violence between the Shia force and Hariri's mainly Sunni allies.
.
______________________________
.
Líbano reforça fronteira para visita de Ahmadinejad ao sul do país
14/10/2010 – 11h34  |   DA BBC BRASIL
O governo libanês reforçou suas tropas ao longo da fronteira com Israel em preparação para a viagem do presidente iraniano Mahmoud Ahmadinejad à região, que faz uma polêmica visita ao Líbano.
Em seu segundo dia de visita ao país árabe, o líder iraniano visitará diversas cidades no sul do país que foram destruídas na guerra de 2006 entre o grupo xiita Hizbollah e Israel.
No sul, Ahmadinejad deverá fazer discursos de apoio ao Hizbollah, um forte aliado do Irã, e fazer menções honrosas à luta do grupo xiita contra Israel.
O governo libanês teme que a visita de Ahmadinejad aumente a tensão na frágil e instável fronteira entre os dois países.
Em Israel, a segurança também foi aumentada devido à visita do presidente iraniano ao país vizinho.
O governo israelense qualificou a visita de Ahmadinejad como provocativa e alertou para o fato do Líbano se transformar em um "protetorado iraniano e um Estado extremista".
O porta-voz do Ministério de Relações Exteriores israelense, Yigal Palmor, disse que a visita de Ahmadinejad estava "recheada com uma mensagem de confrontação e violência".
"É uma visita provocativa e desestabilizadora. Parece que suas intensões são visivelmente hostis e ele está vindo para brincar com fogo", declarou Palmor para a imprensa.
Políticos da base governista no Líbano, rivais do Hizbollah, vinham alertando que a visita do presidente iraniano seria uma provocação desnecessária a Israel.
No sul, região que é controlada pelo Hizbollah, Ahmadinejad visitará a cidade de Bint Jbeil, local de intensos combates na guerra de 2006 e fortemente bombardeada por Israel, onde fará um discurso para uma multidão.
UNIDADE
O líder iraniano faz sua primeira visita ao Líbano desde que assumiu a Presidência do Irã, em 2005.
Na quarta-feira, em um encontro com os principais líderes libaneses, ele pregou a unidade no país e prometeu apoio iraniano para o governo de união nacional, do qual o Hizbollah faz parte.
Discursando para autoridades do país, Ahmadinejad destacou que o Irã estava ao lado do Líbano em sua luta contra Israel.
"Nós apoiamos a resistência do povo libanês contra o regime sionista (Israel) e queremos a completa liberação dos territórios ocupados no Líbano, Síria e Palestina", disse ele na entrevista coletiva.
Os Estados Unidos também qualificaram a visita do líder iraniano ao Líbano como uma provocação.
"Nós rejeitamos qualquer esforço de desestabilizar ou inflamar tensões dentro do Líbano", disse Hillary Clinton, secretária de Estado americana, na quarta-feira.
TRIBUNAL DA ONU
Na noite de quarta-feira Ahmadinejad participou de um comício nos subúrbios no sul da
capital, Beirute, reduto do Hizbollah.
Milhares de pessoas compareceram para ouvir os discursos do iraniano e do líder do Hizbollah, Hassan Nasrallah.
Em coro, a multidão gritava palavas de ordem como "morte aos Estados Unidos" e "morte a Israel".
Em seu discurso, Ahmadinejad atacou o Tribunal Especial das Nações Unidas (ONU), que investiga a morte do ex-premiê Rafik al-Hariri em um atentado à bomba, em 2005.
Informações preliminares deram conta de que o tribunal – previsto para apresentar as conclusões do inquérito neste mês de outubro – deve indiciar membros do Hizbollah pelo assassinato de Hariri, o que provocou um crise política no Líbano.
"No Líbano, um amigo e patriota foi assassinado… países ocidentais estão tentando implantar conflito e discórdia… manipular a mídia para acusar nossos amigos (Hizbollah) e realizar seus objetivos na região", disse ele para o público.
O atual premiê, Saad al Hariri, vem enfrentando forte pressão da Síria e do Hizbollah para que rejeite os resultados dos indiciamentos.
O grupo xiita e seus aliados acusam o tribunal da ONU de servir aos interesse dos Estados Unidos e de Israel.
As críticas de Ahmadinejad ao tribunal da ONU repercutiram negativamente entre políticos da base governista no Líbano.
Conhecido com 14 de março, o grupo que reúne a base governista vem condenando a visita de Ahmadinejad, dizendo que o o presidente do Irã planeja trasnformar o Líbano em "uma base iraniana no Mediterrâneo".
___________________________________________________
Ahmadinejad begins Lebanon trip
Iranian president arrives in Beirut to begin a visit that has divided opinion in the Mediterranean country.
13 Oct 2010 15:11 |
Ahmadinejad is undertaking his first state visit to Lebanon, but the trip has sparked controversy in the country [AFP]
Mahmoud Ahmadinejad, the Iranian president, has arrived in Lebanon for a visit that has split opinion among Lebanese politicians, highlighting internal divisions and underlining Iran's influence in the country.
Tens of thousands lined the streets around the airport on Wednesday to welcome Ahmadinejad for his first state visit to Lebanon since taking office in 2005, which will include a tour of villages close to the country's volatile border with Israel.
The crowd threw rice, sweets and rose petals for the Iranian leader as his convoy made its way to Lebanon's presidential palace.
But pro-Western politicians in Lebanon's fragile national unity government have protested against Ahmadinejad's visit, accusing him of treating the country as an "Iranian base on the Mediterranean".
Iran's support for Hezbollah, a political party backed mainly by Lebanon's Shia Muslim community and which maintains a large arsenal as well as close links to Iran, is opposed by Sunni Muslim and Christian political parties, who say that the country's sovereignty has been undermined.
Al Jazeera's Rula Amin, reporting from Beirut, said that the visit comes at a sensitive time for Lebanon, where tensions are running high over an investigation into the 2005 killing of former prime minister Rafiq al-Hariri.
Members of the pro-Western March 14 political bloc have expressed concern over the timing of the visit.
"They don't want to feel that this visit will strengthen Hezbollah," she said. "The country is going through some rough times, and tensions are running high. Some are concerned that the country is sliding towards another round of violence."
Hugely popular
Ahmadinejad is a hugely popular figure among Lebanon's Shia population, which is mainly concentrated in the southern suburbs of Beirut and in the south of the country, and has borne of the brunt of periodic bouts of conflict with Israel.
"The enemies of Lebanon and Iran are terrified when they see the two nations standing alongside one another," Ahmadinejad told parliament speaker Nabih Berri, who greeted him at Beirut's airport on Wednesday. "Today is a new day for us and I am proud to be in Lebanon," he added.
After a 2006 war between Hezbollah and Israel, Iran funded the reconstruction of large swathes of conflict damaged areas in Hezbollah strongholds.
The party's leader, Sayyed Hassan Nasrallah, said on Saturday that Lebanon should thank Iran for supporting "resistance movements in the region … especially at the time of the July war in Lebanon", referring to the 2006 conflict. "Where did this money come from? From donations? No, frankly from Iran."
Officials close to Hezbollah say they have spent about $1bn of Iranian money since 2006 on aid and rebuilding. But the West accuses Tehran of equipping Hezbollah with tens of thousands of rockets to be used against Israel.
As well as meeting Lebanon's president, prime minister and parliamentary speaker, Ahmadinejad will visit towns close to the border with Israel. He is expected to tour towns including Qana and Bint Jbeil, just 4km from the border, which was heavily bombed by Israel during the 2006 war.
The visit has sparked criticism from the US and Israel, which accuses Iran of seeking to develop nuclear weapons, and has not ruled out military action to prevent Tehran building a nuclear bomb.
But Ahmadinejad has repeatedly insisted his country's nuclear programme is peaceful, and has warned that any Israeli action against it would lead to the destruction of Israel as a political entity.
Caught in the middle
With powerful backers in both the US and Iran, Lebanon has found itself caught in the middle of the row, with both sides seeking to bolster their allies in the country.
The US has given aid and training to Lebanese security forces with a view to eventually disarming Hezbollah, which it considers a terrorist group. But Lebanon's fractious relations with Israel have complicated this support, and US military aid to the country was frozen earlier this year after Lebanese troops became embroiled in a cross-border clash with Israeli soldiers.
Dan Diker, director strategic affairs at the World Jewish Congress told Al Jazeera that while reaction to the visit might be overblown that Ahmadinejad is "playing a dangerous game with the entire region" by visiting and investing in countries such as Syria and Lebanon.
Diker said that "Israel's neighbours in the Middle East" worried that the Iranian regime might collapse.
Iran has offered to step in and give Lebanon its own military aid, but diplomats say that weapons sent to Lebanon from Iran would violate UN sanctions imposed over Tehran's nuclear programme.
Ahmadinejad is, however, expected to sign an agreement for a $450 million loan to fund electricity and water projects, as well as an accord on energy co-operation, in what has been percieved as a sign that Tehran is seeking to reinforce its influence in Lebanon.
___________________________
____ www.nazen.tk
__________________________
Sobre
Blog @ nazen.tk
"Comentários islamofóbicos, anti-semitas e anti-árabes ou que coloquem um povo ou uma religião como superiores não serão publicados. Tampouco ataques entre leitores ou contra o blogueiro. Pessoas que insistirem em ataques pessoais não terão mais seus comentários publicados. Não é permitido postar vídeo. Todos os posts devem ter relação com algum dos temas acima. O blog está aberto a discussões educadas e com pontos de vista diferentes" (*)
O comunicador e ativista político, Nazen Carneiro, formado em Relações Públicas pela Universidade Federal do Paraná, foi correspondente internacional temporário de "Gazeta do Povo" em Teerã, no Irã. Já fez reportagens do Irã, Romênia, Turquia e Grécia, escrevendo sobre a relação do Oriente Médio com o mundo.
Tendo passado pelo Rádio, atua também como ativista cultural e produtor independente do evento mundial pela paz, Earthdance.
Leia os blogs recomendados ao lado.